In this section...
Harvest Celebration
To celebrate Harvest this year, we are supporting the Hope Centre in Northampton. Last week we welcomed Tanya Haji-Miller from the centre to talk to us about her work. The Hope Centre offers support every day for 100 local people who are homeless.
We would like to help, by donating as many items to them as we can. In particular, the Hope Centre are looking for foodstuffs for breakfast and dinner, and supplies for the showering and changing facilities that they offer to their clients. They are in need of donations of shower gel and shampoo, as well as underwear, and are also collecting garden tools to support a garden tool refurbishment programme that they are running.
Thank you if you have made a donation already, we are very grateful for your support. If you haven't, but still wish to donate an item we can accept your donation until morning registration on Friday 29th September.
Below is a more detailed list of items the Hope Centre would be delighted to receive. We will be taking any items we have collected to the Hope Centre on Friday 29th September 2017. Should you wish to contribute, your child can bring an item in to school and hand it to their class teacher.
Thank you in advance for your support.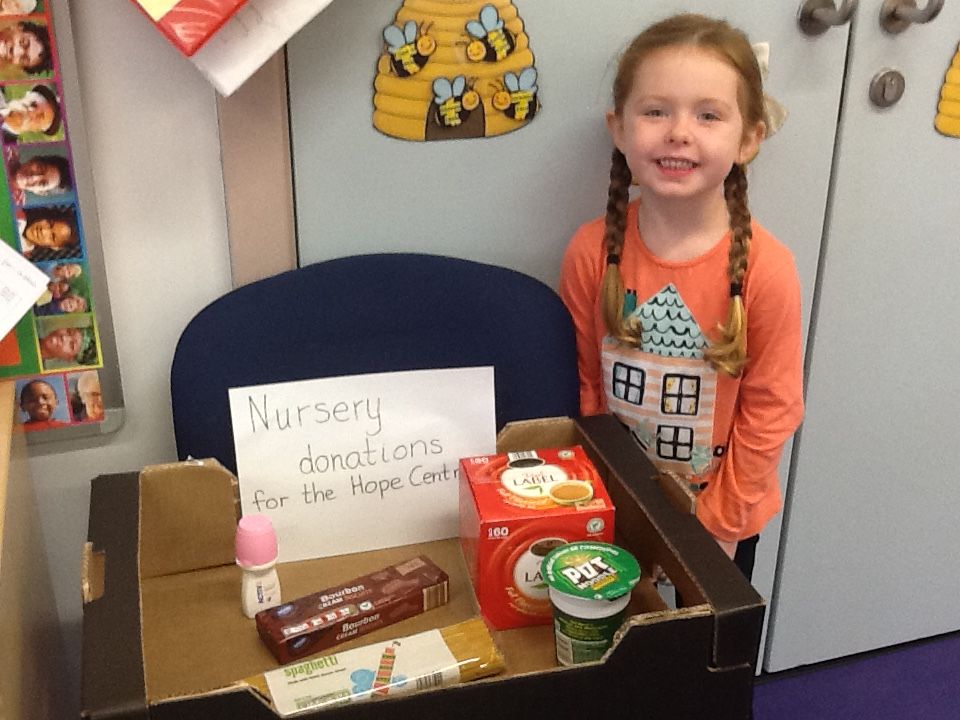 Northampton Hope Centre
Harvest Wish List 2017
Any of the below items will be gratefully received and used by the Hope Centre.
FOOD ITEMS
Tinned goods

Vegetables –all types,

Tomatoes

Potatoes

Baked Beans / Beans and sausages

Spaghetti / Ravioli / Macaroni

Soup

Hot dogs

General tinned meat

Pie fillings (meat & fruit)

Rice pudding

Evaporated cream (for desserts)

Fruit – All types

Tinned meat / fish

Tuna

Sardines

Pilchards

Mackerel

Steak

Chicken in white sauce

Mince

Corned beef

Ham

Meatballs

Pies (e.g. Fray Bentos)

Essential items

Sugar

Coffee, tea

Bottled Squash

Cup a soups / snack a soups / pot noodles / savoury rice

Gravy granules

Condiments e.g. Brown sauce, Ketchup, Mayonnaise / Salad Cream

Custard (ready made)

Jam & Marmalade

Long life milk

Powdered milk

pasta

Couscous

Cereal

rice

Biscuits, sweets, treats

Jars

Pasta sauce

Curry sauce

Cooking sauces

White sauce

Sachets

Cheese sauce

White sauce

Instant custard sachets
NON FOOD ITEMS
Toiletries

Shower gel

Toilet rolls

Razors

Shaving gel / cream

Deodorant

Liquid hand soap

Toothbrushes

Towels

Individual tissue packs

Brushes / combs

Cleaning & equipment

Wire wool for cleaning (no soap filled ones)

Washing powder

Cleaning cloths

Sponge scourer

Plastic food tubs

Kitchen roll

Small food bags

Large towels

Foil

Washing up liquid

Clothing

Men's clothes

Women's clothes

Men's and women's Pants/socks (2nd hand, clean is fine)

Hats/scarves/gloves/balaclavas

Jumpers

Coats

Long johns

Boots

Garden Tools

We are looking for any garden tools that we can refurbish and sell on.

Spades

Forks

Hoes

Trowels

Loppers
Thank you for your kindness in donating these much needed items.
We are very grateful.
Northampton Hope Centre:
Oasis House, 35-37 Campbell Street, Northampton NN1 3DS
Office Telephone: 0845 519 9371 Ext 6285
Visit us at: www.northamptonhopecentre.org.uk
If you'd like to make a donation, please use: www.localgiving.com/northamptonhopecentre