In this section...
Chaplaincy
'As God's chosen people, holy and dearly loved, clothe yourselves with compassion, kindness, humility, gentleness and patience.'
Colossians 3:12
During our last RE Inspection, the provision for Chaplaincy was deemed as 'outstanding'. The inspectors noted that: 'prayer is central to the life of the school and pupils are given many opportunities to plan and lead worship.'
Mrs Darwin is the Chaplain for our school, ably supported by the Staff Chaplaincy Team and the Pupil Ethos Team at St Gregory's. She works in all four of the Catholic schools in Northampton. Our School Choir and Ethos Team always represent our school at the Advent and Lent Reflections, alongside children from St Mary's, The Good Shepherd and Thomas Becket Catholic Schools. These events are held at the Cathedral.
Mrs Darwin works in St Gregory's each Wednesday, during that time she may be found giving an assembly to pupils, leading Reflection Times in classes or in the Emmaus Room, supporting Religious Education lessons or meeting with the Ethos Team at lunchtime.
'The Catholic Life of the school is outstanding. The School Chaplain is very experienced and highly committed to nurturing the spiritual needs of pupils, staff and parents.' - IMV Report, July 2019.
We work closely with the parishes of Northampton and receive support and regular visits from the local clergy. We also welcome Fr David Donaghue, a previous St Gregory's pupil, regularly to celebrate Mass and support with Catholic Life in our school.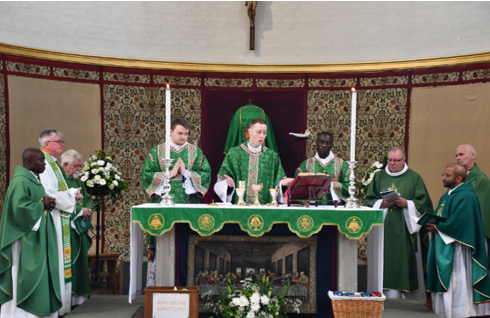 Throughout the academic year, we regularly join with the wider Catholic community at Diocesan events. Highlights include, the annual Diocesan Schools Mass, held at the end of Catholic Schools Week in October and celebratory Feast Day Masses for the Patron Saints of our Diocese.