In this section...
Our Curriculum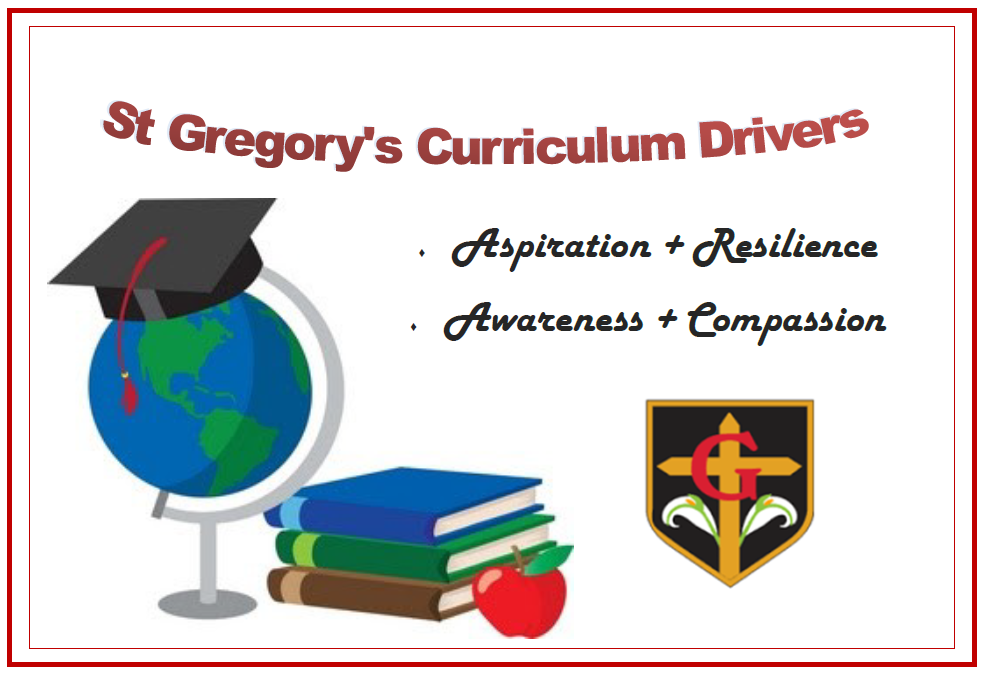 Curriculum Intent
Our curriculum is underpinned by a Catholic education based on the life and teaching of Jesus Christ, in which the values of the Gospel underpin all aspects of school life. We insist on the highest standards of academic achievement so that our young people leave us as 'agents of change' – educated and caring people who have the qualifications, knowledge and skills they need to flourish as human beings and make the world a better place. We are committed to our mission and to raising standards in order to provide an excellent Catholic education for every child in our care. We work together as one Trust, one family of schools, a community inspired by a vision for excellence.
At St Gregory's Catholic Primary School we offer a curriculum which is broad and balanced and promotes a positive attitude to life-long learning. It builds on the knowledge, conceptual understanding and skills of all children, whatever their starting points, as they progress through each Key Stage in readiness for their next stage of education.
The knowledge of our children and the context in which they live have shaped what we believe is an exciting, innovative and creative curriculum, providing equality of opportunities to counter relative disadvantage/different starting points and meeting the needs of all our learners. Our curriculum has high expectations to combine transferable skills, demonstrate a breadth of vocabulary and develop strong cross curricular links. Inviting classroom environments to stimulate and engage quality thinking and reasoning.
We offer a range of lunchtime and after school clubs, plus a range of additional curriculum events which further extend our children's learning opportunities.
We believe our children possess unique talents, skills and qualities. As such, they have the right to succeed, the right to recognise their own greatness and the right to develop who they are in a respectful and nurturing environment. Our school ethos is firmly rooted in our values with a love of learning being the foundation of everything we do.
Our Curriculum:
Promotes our Core Gospel Values which underpin all aspects of school life
Promotes stewardship enabling our children to develop an awareness of the wider world and their role as global citizens
Provides opportunities for our children to be agents of change and to make a positive difference to the world in which they live
Balances academic success with wider attributes & provides for learners' broader development enabling them to develop and discover their interests and talents
Promotes our Learning Values – Generosity, Responsibility, Enthusiasm, Greatness, Optimism, Resilience, Yearning and Success
Supports our children to develop their character and help them to keep physically and mentally healthy
Has an uncompromising focus on the development and application of reading, writing and mathematics skills
Plays a major role in developing our children's love and passion for learning using Hooks and Celebrations as motivational tools
Celebrates equity and diversity supporting the pupils' spiritual, moral, social and cultural development
Develops children as leaders by valuing children's voices and individual contributions and offering a range of opportunities to develop their leadership skills e.g. roles of Head Boy & Head Girl; Prefects; Schools Council; Sports Leaders; Librarians and through responsibilities given in their class.
In order to empower excellence in children, we believe that we need to work in partnership with parents and the community to achieve this. Parents, stakeholders and community members are invited regularly into our school to celebrate the children's work. We also engage local and wider community members as 'experts' to support thematic learning experiences; this provides the children with a meaningful audience and also celebrates with the wider school family the excellence that has been achieved.
The document below outlines the key skills your child will be taught each year at school. If you have any questions please contact your child's teacher in the first instance.
For more information click on the appropriate key stage link to access further information regarding the work your child will be doing this term.