In this section...
Sport & PE
During the Autumn and Advent Terms we have participated in a fantastic amount of sporting events in and out of school. We have learned some new sports and all of the pupils in Years 1-6 have had an opportunity to gain tournament experience. We have had to build a trophy shelf which will possibly extend to a trophy cabinet by the end of the academic year!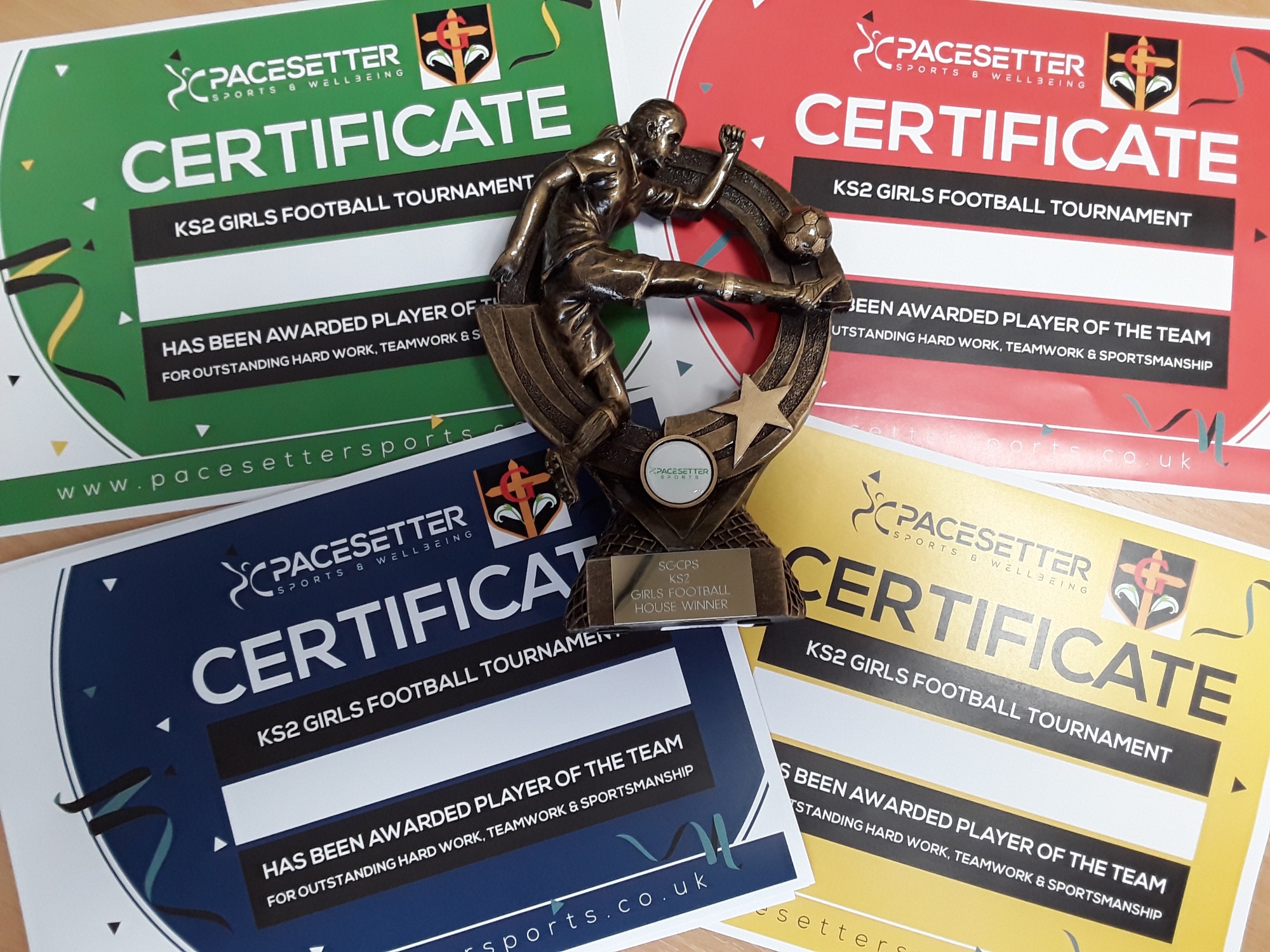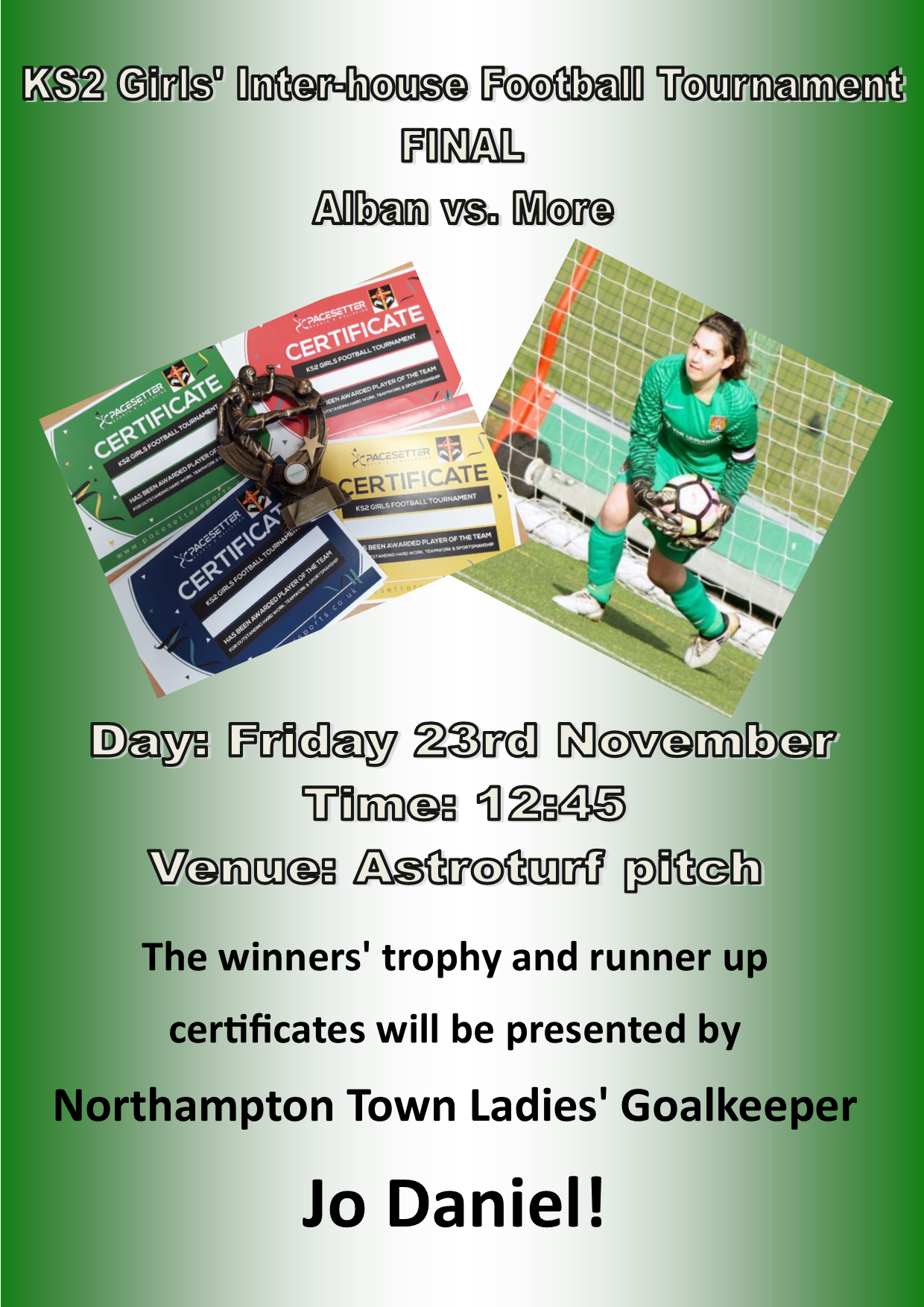 Inter-house Girls' Football Tournament
During lunchtimes in November the Key Stage 2 girls were given the opportunity to be coached and selected for the Inter-House Girls' Football Tournament, organised by Mr Raisbury our PE teacher from Pacesetter Sports. The House Groups Alban, Becket, Fisher and More played against each other to decide who would go through to the Final.
The winning teams Alban and More played the final match to an audience of special guests including Northampton Town Ladies' Goalkeeper Jo Daniel, Northampton Town Ladies & Girls Club Secretary Kim Birtwistle and NTFC photographer Pete Norton.
The final score was Alban 2 - 0 More, the winning team were presented with a trophy and certificate from Jo. It was a great day and some of the boys and girls even got to take penalties against Jo!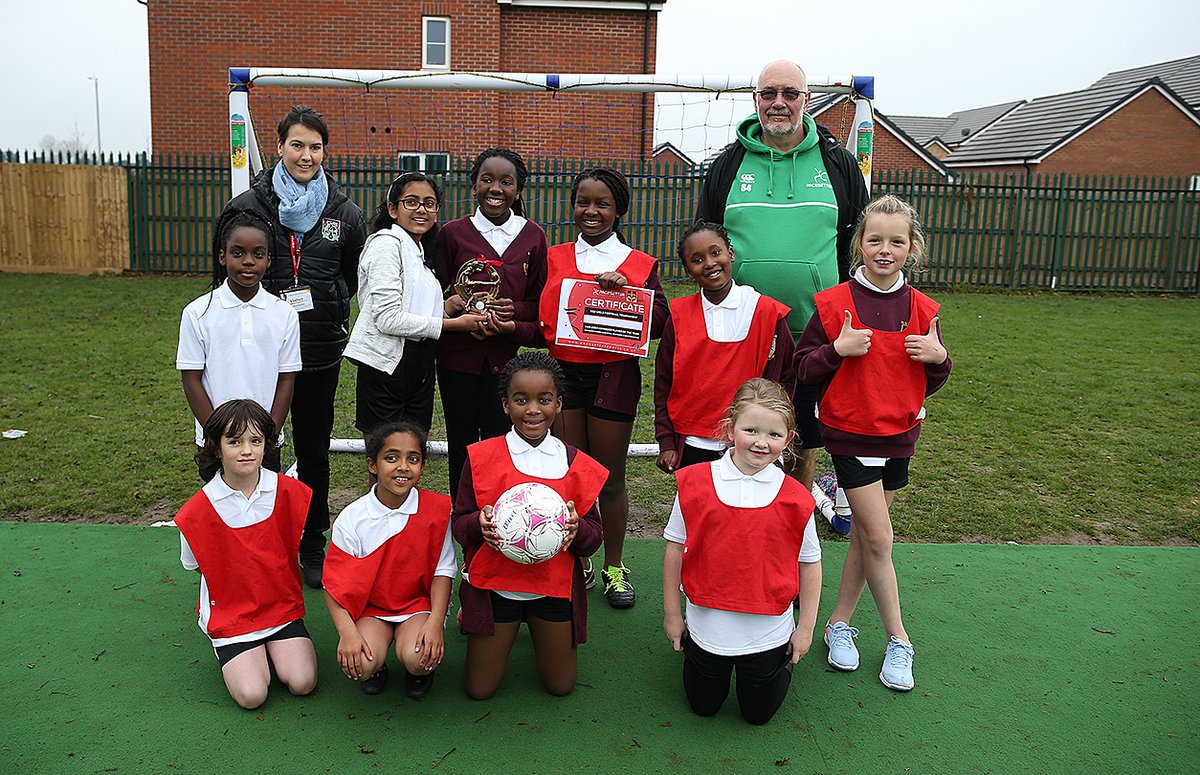 Pacesetter Games
The school have entered the Pacesetter Games Tournaments, which started in October but run throughout the year, teams are selected for future competitions based on sporting aptitude and good behaviour.
Football Tournaments
Years 1 and 2 were the first to represent our school, playing in a football tournament against other Pacesetter Sport schools on Friday 5th October at Benham Sports Centre. Our teams achieved 2nd and 4th place and came home with their first trophy as well as an abundance of smiles!
On 12th October our Year 3 and 4 teams achieved 3rd and 6th place. The children's behaviour and teamwork was exemplary.
Years 5 and 6 played their matches on 19th October and faced some very strong competition! The result came down to penalties and we won 1st place! We are now top of the league table for the Pacesetter Games and earned our place in the semi-finals to be held at the end of the school year. The teams were great ambassadors for the school and showed true team spirit.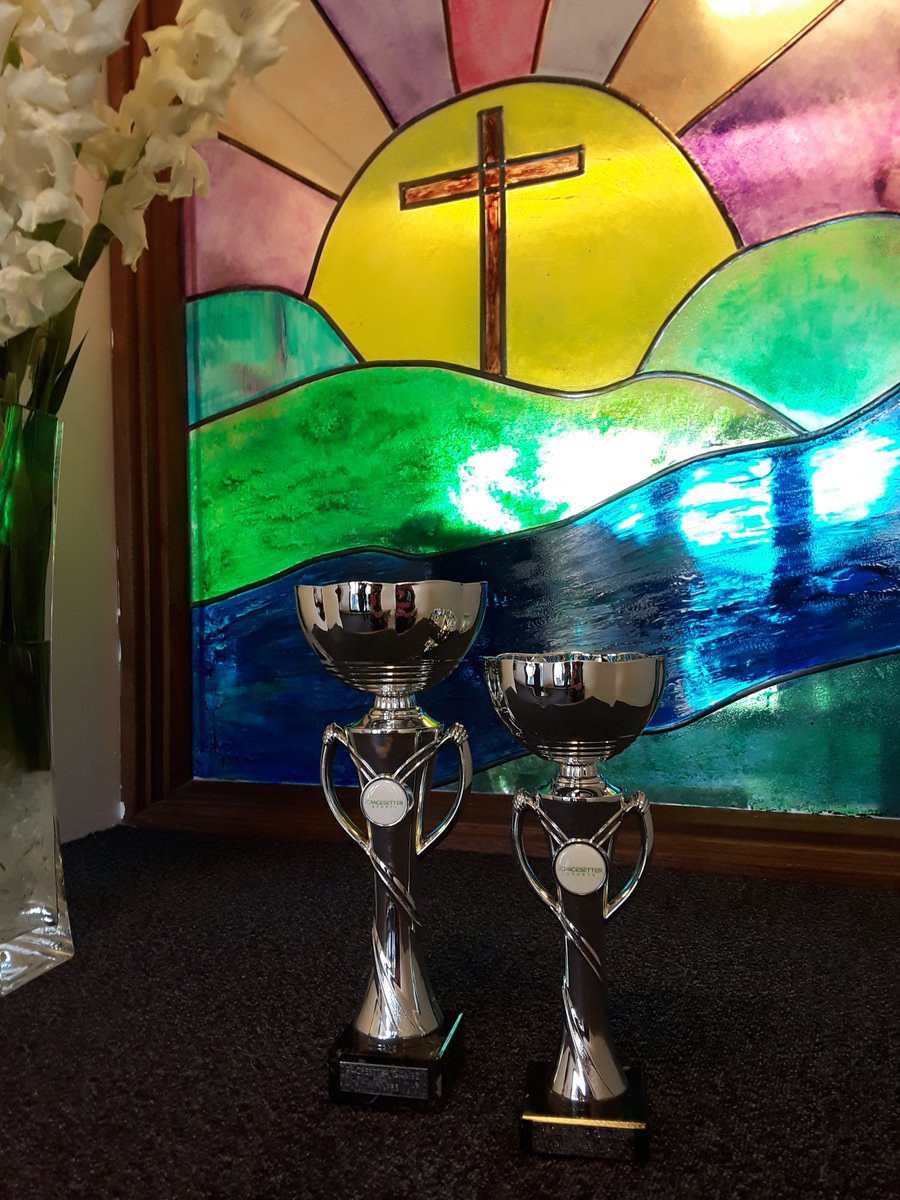 St Thomas of Canterbury Catholic Academies Trust Sports Tournaments
Thomas Becket hosts the first of the STCCAT sports tournaments this year, celebrating sport among the four Northampton Catholic Schools. The Multi-Academy Trust tournaments have been named the CAT Tournaments and each week the winning primary school team win the STCCAT mascot cat.
The tournament involves all of the pupils in Years 1-6, each week two year groups travel to Thomas Becket to meet the children from the other Catholic primary schools and compete in a sport.
The first tournament was football, held on Monday 5th November for Years 5 and 6 who again showed their strength in teamwork and ability by coming 1st! Between now and July Years 1-6 will take turns to experience boccia, volleyball, benchball and rounders. The tournaments will culminate in Sports Days held at Thomas Becket at the end of the school year.
Northamptonshire Cross Country Tryouts
On 13th November several pupils from Years 5 and 6 went to Northampton Racecourse to tryout for the Northamptonshire Cross Country Championship. Our group were selected from those who took part in the lunch time training sessions at school, practice of a few laps around the school field were vastly different in distance to the real event! A little under prepared, all the pupils faced the gruelling course with their best efforts and completed the distance. We are very proud of them all.
Congratulations to Year 5 pupils Tymoteusz and Mildred who qualified for the Northamptonshire Cross Country Championship to take place in 2019!
---
Sport in the community
Northamptonshire Sport's 'Jog Northants' programme announces 12 new jogging groups to start throughout the county in January, all helping beginners to start jogging regularly using a gradual progression programme. Jog Northants is Northamptonshire's recreational running programme which has encouraged over 5000 participants countywide to sign up to the scheme since it started in 2011.
All the groups start with a mixture of walking and jogging and are ideal for anyone that has never run before and especially those that have bad memories of school PE when they were younger!
The groups cater for all fitness levels and abilities from the complete beginner and those returning to running to those who fancy running with likeminded people. The camaraderie and social element is always strong within the groups with members attending social events and runs regularly.
To find out more information please see the Northamptonshire Sport website.